It takes years of experience, dedication, and work as a residential fire protection contractor to do this kind of math. We've been perfecting the formula since 1993 and our research continues. The result works out in your favor with every house we protect.
Here's a little more detail...
---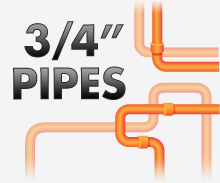 Smaller pipe flows bigger savings
It's simple, really. You want to use ¾ inch pipe. Because as soon as the diameter goes to 1 inch, the cost per foot jumps by 67%. We find ways to use smaller pipe everywhere we can. Our suppliers back us up on this. They even talk about it when we order: "How do you guys pull this off? No one else touches your volume of three-quarter CPVC."
Of course there are exceptions to the ¾" rule. They come into play when water pressure is too low or when we can actually save money by using pieces of 1" or 1.25" pipe.
Trust Fire Sprinkler Systems to keep costs low by using not only using smaller pipe, but by using it in quantities that make sense.

---
The bottom line
Take advantage of our volume purchasing power and the best fire sprinkler system engineers in the business. They are the keys to solving your CRC 313.3 related cost problems. You get systems with the least amount of water flowing through each individual piece of pipe. When that happens, your sprinklers are code-compliant and your costs drops as low as it can go. Contact Fire Sprinkler Systems today to learn more.